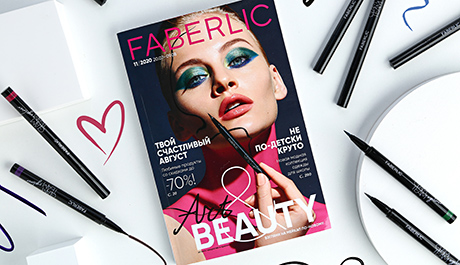 Bold, decisive, uncompromising - we're getting everything out of summer! Makeup as art, fashion as philosophy, bargain shopping as a lifestyle - all in the Faberlic catalogue.
Hot days and bright colours will inspire beauty experiments. Get the makeup look you've been dreaming of! There are bold ideas in the catalogue. Use a trendy palette, try new shapes and textures.
Master the eyeliner marker, metallic lipstick, and contouring palette, and we'll guarantee low prices on the most on-trend makeup!
The foundation of a summer look is a matte finish. There's a new product in the Glam Team line: Tea Tree Balancing foundation with tea tree oil and vitamin В3. Three natural shades create even coverage with a soft focus effect and no oily shine, plus hide fine lines and wide pores!
We're continuing the theme of natural glow that we started in the previous catalogue. Now for your body too! Oceanum shining emulsion helps skin glow from within. The luxurious formula restores water balance, making skin more toned and supple. Try it at a special price - buy it together with any other product in the series.
You didn't forget about eating healthy, did you? Our series of herbal tea blends is just what you need to fight for your well-being and good mood! Find your balance in the Faberlic Herbal Tea collection - beverages that contain various herbal blends, with rich flavours and therapeutic effects. There are ten different blends with individual targeted actions.
August is almost here, which means backpacks, school uniforms, and fresh notebooks are in demand again! "Back to school", we're telling our boys and girls, and excitedly presenting new arrivals in the school clothing collection. Cosy jersey and strict pleats, a subdued palette and cute details, bright prints and practical shoes - don't be late for our lesson in style and confidence.
Don't forget to use the coupons you received with your purchases in the last two catalogues. Order makeup, skin care products, fragrances, or household cosmetics at half off! All products available at a discount will be displayed in your personal account during order placement.
Make this summer a beautiful one - trust your own taste and advice from the Faberlic team!
Download catalogue presentation >>