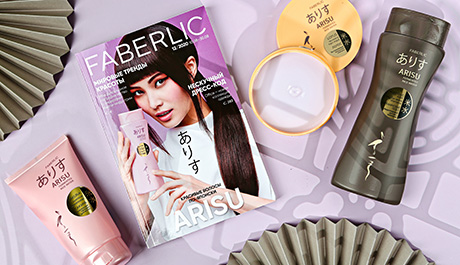 The new Faberlic catalogue is beauty trends in action. We're introduce bold ideas, using unique ingredients, and getting impressive results. Try some trendy solutions, choose intense care!
Arisu is a line for beautiful hair the Japanese way. Fermented rice water, inositol from rice bran, sakura extract, volcanic ash, and lotus flower extract transform hair along its entire length, restoring and strengthening it.
Authentic Japanese hair care will make your hair look like silk! Check out the recovery co-washing for shampoo-free cleansing (7723).
Hydrogel patches are an ultra-modern skin care method for the eye area. Now there are cool petal patches in the Oceanum series! They strengthen and smooth, prevent new wrinkles, and help you look rested thanks to peptides, caviar extract, and a red seaweed active.
The night mask is a perfect solution for flawless radiance! This new addition to the Bioglow series with vitamin C stimulates natural renewal mechanisms, moisturizes, and improves your complexion. As a bonus, it has a flexible gel texture and delicious mango scent.
Lipstick with UV protection is a new arrival for summer that protects against photoaging. Creamy Glammy with lipstick tree oil protects lips against UV radiation, moisturizes, and gives you a flawless satin finish! Find your shade in the palette featuring ten natural tones.
Our newest fashion arrivals are for those who are tired of office compromises. This collection of smart clothes that fit in a business dress code will delight you with rich colours, refined ornaments, and modern silhouettes.
Take a fresh look at knitwear and tweed, find your perfect pantsuit, and learn how to create a fun black and white ensemble. And on casual Friday, wear a comfortable stretch denim piece in dark blue or light blue from our basic collection of trousers and skirts with a feeling of freedom!
Browse the catalogue and stay in the know!
Download catalogue presentation >>