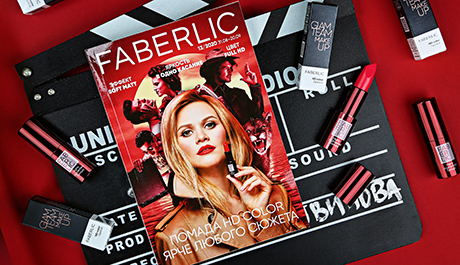 Brighter lips, a brighter catalogue! Incredible shades of the new HD Color lipstick are the key to a Hollywood-worthy makeover.
Experience color in high definition: ultra-sharp pigments keep colour and contour crisp throughout the day, while the soft matte effect is suitable for both business and evening looks. Featuring an exclusive palette from creative director Andrea Pesce.
We're writing a flawless script with only the best ideas from professionals around the world!
From Asia: the moist radiance effect with the iSeul series and Aloe Vera Hyaluronic Gel. This new product stimulates skin renewal, creates a protective water veil, and deeply nourishes. Try it at 50% off!
From our Wellness camp: SuperFood Rhubarb & Chia Seed Shower Smoothie Gel. Natural antioxidants protect cells from damage, strengthen local immune system, and slow down aging.
Clothes for heroes: two new collections with all the trends of the coming autumn. Comfort is natural shades, comfortable cuts, traditional silhouettes, and a pastoral feel. TRENDY TIE DYE is clothing for children and teenagers with unusual rainbow prints. Special dyeing technology gives life to unique pieces for girls' and boys' everyday wardrobes. These collections will help your imagination run wild!
What's going on in the kitchen? Looks like ordinary dishwashing detergent has been replaced with a fragrant balm (art. 30092, 30096). The delicate scent of strawberries and cream or almond milk is just what you need when you just can't take the same old routine, and you want something special.
Shopping with us is as exciting as a good movie. Don't miss a single plot twist! Place an order of 999 RUB or more and get a 250 RUB discount on products from the next catalogue!
Download catalogue presentation >>