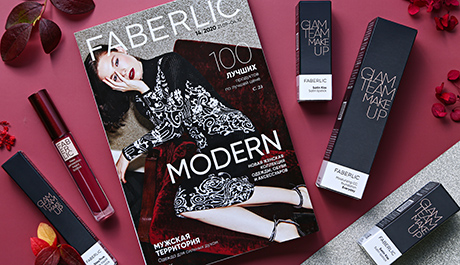 Get ready, autumn wardrobe! The latest Faberlic catalogue is a goldmine for fashionistas, because it contains not one, but two new clothing collections! And tons of discounts.
For women, we have jacquard models, monotone wide-leg trousers, fitted dresses, and knit cardigans and jumpers.
Rich autumn colours go perfectly with black-and-white clothes with complex patterns or Silver Age-style prints! Meet feminine silhouettes and the soft lines of gentle floral motifs.
The Modern series for men features curated basic pieces that are all must-haves for any man's wardrobe: stylish cotton checked shirts and polos, light monotone long sleeved shirts, a high-neck knit jumper, and straight and cargo trousers. All the models are in muted colours and are made of ultra-comfortable materials.
And while we're on the subject of comfort: the Barberlab series for men now has face cream for complete moisturizing and protection against aggressive environmental factors.
Autumn has just started, but down jackets are already here waiting for you in the catalogue. Frost and biting wind won't be a problem, because our down and feather insulated models are designed to withstand temperatures as low as -20 degrees! Choose a slightly fitted model in dark blue, black, or beige before winter arrives.
What about shoes? It's not time for heavy winter boots yet, but trendy microfibre boots with a high shaft are just the thing! The elastic top will fit any size leg, and the microfibre can handle water, temperature changes, and chemicals.
Your autumn look is ready! Just add a light shimmer to your lips with Satin Kiss lipstick, and make your skin tone impeccable using the Everyday palette. Check out these new Glam Team series products in the catalogue.
Don't forget to use your coupon! You got it with your purchases in the previous catalogue. Claim your 250 RUB discount on a hundred of the most popular products from catalogue №14 and the online store! Products of all categories are included, including Premium women's clothes.
Do some bargain shopping and enjoy the moment.
Выгодному шопингу быть – наслаждайся моментом!
Download catalogue presentation >>