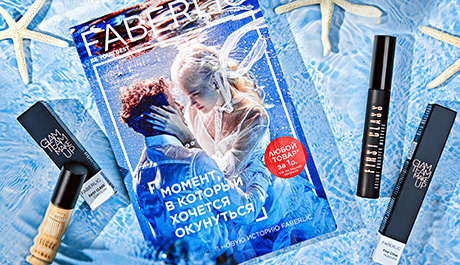 A moment you just want to dive into! In the latest Faberlic catalogue, you'll find new products for the cozy autumn season, super bargain promotions, and great prices on your favourite products! Come see what we have!
Makeup at the highest level - new First Class products! Mascara for soaring volume, concealer to leave behind the baggage of imperfections, and a foundation fluid for visible results with one swipe!
Everything you need for confident, modern, and natural makeup - and even a bit more.
Has the well-loved Beauty Cafe line changed? Yes it has, but it hasn't lost the carefree mood of a small Parisian sweet shop. New fragrances, delicate textures, and a modern design will help it gain new fans. Appetizing Blueberry Cupcake, refreshing Lime Sorbet, exquisite Strawberry Millefeuille, and tempting Banana Mousse - it's up to you what dessert to treat yourself to first!
Who says that autumn is not the right season for a mini? The new Faberlic catalogue has a line for hair removal and leg-specific skin care featuring orchid extract and Brazilian murumuru palm oil. The new Deline series for perfect results in the fight for smooth skin without a single excess hair! Also try the after-shave tonic that prevents razor bumps.
New N4W products for very young skin. This series contains all the most effective formulas for treating problem skin. Everything you need against acne and inflammation! Tazman pepper extract does the heavy lifting, paradoxically featuring a soothing effect. These new products cleanse, mask, even skin tone, and mattify, and they're suitable for everyone age 12 and up.
Want to order everything at once? Don't stop yourself! Make purchases, and we'll turn every sixth product in your order into a gift. We've never had a promotion like this before! A great reason to let yourself live a little. Seize the day - until October 25.
Download catalogue presentation >>