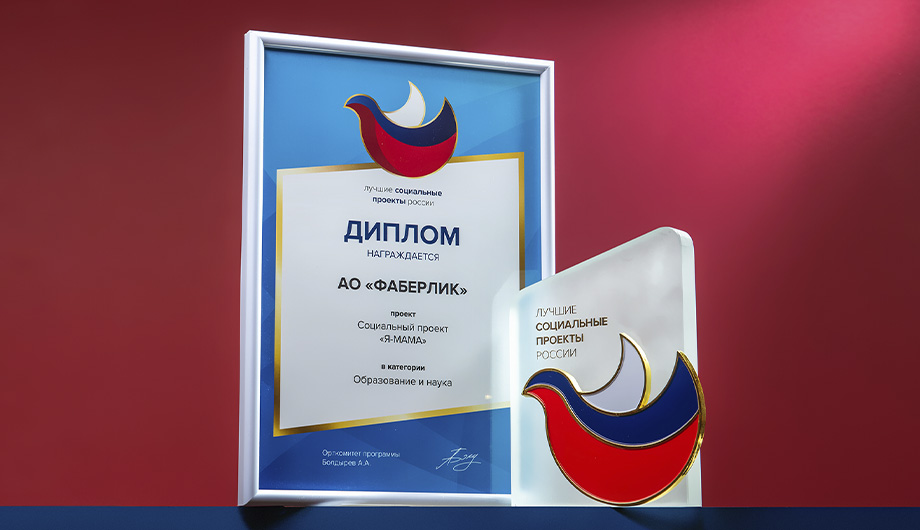 The annual program Russia's Best Social Projects is the biggest event in the corporate social responsibility field. For eight years, the program has gathered together representatives of businesses, public organizations, and government institutions who take action and make a significant contribution to the development of social services, and bestows well-deserved awards on them.
A conference was held as part of the contest, where participants shared their experience implementing and developing CSR programs, talked about the difficulties they faced and how they consequently and successfully solved relevant problems, especially during the pandemic and quarantine.
Our company won an award for best social project in the Education and Science category for our I'M A MUM social project. Faberlic Project Manager Ekaterina Bespyatykh talked about the program, preparations for it, the launch, the first results, and further development plans.
We spent half a year preparing for this project. We thoroughly researched the self-realization problem faced by young mothers, and identified 8 topical areas to form a training program. It was a massive undertaking, and in two months, 15,000 young women from all over Russia completed the training! The project had a lot of informational support from 45 popular women's magazines and 250 bloggers. The first wave of training made it clear that the topic we chose is very relevant, so we'll continue developing the project in different directions. And, of course, the entire project team is thrilled that the contest jury rated our results so highly. - Ekaterina Bespyatykh.
The value of the I'M A MUM project was also appreciated by the organizing committee of the Person of the Year 2020 contest, and so was Ekaterina Bespyatykh, for her personal role in creating and implementing the project, in the Top Woman category.
Faberlic has many socially important projects ahead that will draw attention to the most pressing issues of modern life.