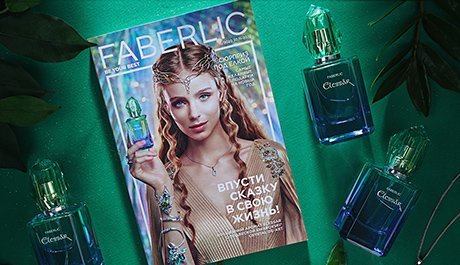 Miracles are everywhere! Faberlic's new catalogue sparkles with the facets of an elven crystal and shares fresh gift ideas. Get ready to be surprised.
ГThe most exciting new arrival is the sparkling Elessar fragrance. A floral-green perfume straight out of legends—unfurling with notes of pearl peony, gentian, and four-leaf clover.
Each bottle is accompanied by a Swarovski pendant with a northern lights effect. Like a fairy tale come to life! There's a scented page in the catalogue.
Create your own miracle with new Click&Go mascara! Volume and separation, length and curl are in your hands! Just use the modeling fibre brush. This mascara has innovative packaging, with nothing like it in the whole world—you open it by pressing the cap.
Is working magic tiring? Not at all when makeup is hassle-free and goes on like a weightless veil, retaining a natural matte finish and an even tone. Meet ultra-light Skin Sense powder. It's anti-gravity at work—you don't feel your makeup, but you do feel confident!

Miracles require energy—a lot of energy. And that's exactly what the next generation of oxygen cosmetics gives your skin! Global Oxygen activates cells and creates an endless source of energy for self-renewal. Your skin has its own atmosphere, rich in active oxygen!
And some people have a fairy-tale character at home - a four-legged friend you want to take care of from morning until evening. Now we have a page in the catalogue for them, too! It's the Lapki Lab series, featuring products for fur and paw care. Suitable for dogs and cats.

Magic is always creativity. And you need to learn to create from a very young age! We have found an unexpected solution for creative kids: pyjamas and socks that can be colored in. Your child can decide for themselves what color the heroes will be - three fabric markers are included.
Imagine, dream, act! May your purchases be filled with meaning and delight. Happy shopping!!
Download catalogue presentation >>
And in the video presentation of catalogue 18/2020, Senior Director Vilena Arkadieva presented many new products and great offers on decorative cosmetics and nail polishes, women's and men's fragrances, and hygiene products.
We got a look at New Year's gifts from the catalogue: new sets of sugar-free chocolates, bar soap in various shapes with the most festive scents, and cosy house slippers shaped like the symbol of the coming year, an ox.
The video review also covered the new innovative line of oxygen cosmetics, as well as skin care accessories and cosmetics.
And, of course, learn more about another new product in the catalogue – Lapki Lab products for pet fur care!
Experience the delightful hubbub of New Year's preparations with catalogue 18/2020!