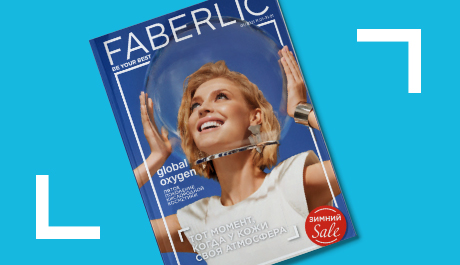 Find bargains and bright new arrivals from the Faberlic catalogue in an atmosphere of care and love! Choose the latest generation of oxygen cosmetics and try fresh solutions for every day.
And don't forget about our traditional winter sale!
You'll find a tinted concealer palette from the Glam Team series. Glowing Touch brightens and strengthens the delicate skin of your eye area, stimulates microcirculation, and works as an antioxidant.
Erases signs of fatigue and fills the skin with natural radiance! Featuring an exclusive active component: certified organic seaweed extract.
There's a new player on the Nuki toothpaste team: Healthy Gums with melon extract, peppermint essential oil, aloe vera, and allantoin. The scented toothpaste prevents bleeding and freshens breath quickly.

A new arrival for men: Desperado eau de toilette and two products in the BarberLab collection. Try this fresh fougere fragrance with bold notes of spiced apple and alpine lavender at 50% off! There's a scented page in the catalogue. The new Shampoo & Balm and Beard Softening Elixir are just 149 RUB.
The holiday continues at home with the well-loved Home Gnome Greenly series. Now the All-in-1 Biocapsules for Dishwashing Machines (art. 10902) work on difficult dirt, grease, and burnt residue.
All-in-one for washing in hard water: no salts or rinse aids needed, plus added protection against limescale to make dishes shine! Choose the biomineral formula with no fragrances, dyes, preservatives, or phosphates.

How about some happy winter moments? New Lovely Moments products will help you notice them more often! A stylish eco-friendly shopping bag and fun lunchboxes and mugs will cheer you up, creating a special atmosphere.
Happy winter! And, of course, happy shopping!
Download catalogue presentation >>
And in the video presentation of catalogue №1/2021, Ekaterina Martyanova, Silver Director, talked about the best promotions, deals, and discounts of January!
Find out how to get a gift for your first purchase, plus learn about new products from different categories!
Watch the video review of catalogue 1/2021 and learn about all our money-saving offers and new products!