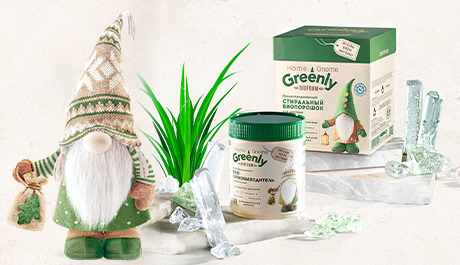 Bio cleanliness without stains!
We are giving a set of Home Gnome Greenly laundry bio products (11892 and 11984) to everyone who registers with Faberlic from 11 to 31 January and makes a purchase in period №01/2021.
These laundry bio products provide perfect conditions for washing out the toughest dirt and stains, even in hard water.
Concentrated Laundry Bio Detergent for coloured fabrics (11892) rinses out completely, makes fabrics soft, and preserves fibre structure.
Universal Concentrated Bio Stain Remover (11984) effectively removes tough stains and odours, and is also suitable for cleaning carpets, upholstery, and mop heads.
To get the gift:
Register on faberlic.com from 11 to 31 January.
Place and pay for an order of 1499 rub.* or more before 31 January.
From 1 to 21 February get a set of Home Gnome Greenly laundry bio products with another order of 1000 rub. or more as a gift (for 1 rub.).
Also: place your first order of 1000 rub. or more with Faberlic in the first 24 hours after you register and get another nice surprise - a set of home cosmetics products in mini versions: learn more!
It's an advantage to be a new customer at Faberlic! Learn how to purchase Faberlic best selling products at bargain prices: view the terms of the New Representative program >>
*Excluding auto-delivery and delivery fees.