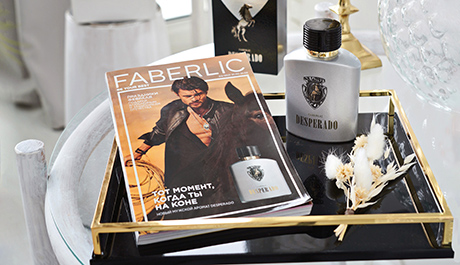 All of February is a holiday mood! The coming of spring, caring for those closest to you, and a lot of love – you'll find it all in our latest catalogue.
The limited Storie d'Amore collection will give you confidence in the most sensuous moments. Order soap, shower gel, or a fizzing bath bomb with the delicate scent of cherry blossoms at super prices – starting at 59 roubles. Quantities are limited because we created this line especially for spring 2021.
Do you want more sweet moments? New Beauty Café products with a cosy sweets shop mood are here. Get ready for the most delicate textures and the enchanting scent of citrus and cotton candy. Choose Orange Meringue for a romantic mood. Get a discount on both when you buy any two products.

And here comes the heavy artillery of all romantics. Adorable details of the holiday atmosphere will melt the February ice: teacups and colourful heart-shaped spoons will express your feelings without words. More thematic accessories: coffee stencils, muffin pan, and cookie or salad molds. Your table will look perfect!
A new product for men: amber-woody fragrance Don Leon. Discover cinnamon and basil, noble mahogany, and a trail of cedar, vetiver, and white musk. This new masterpiece by French perfumer Tom Fontaine matches the majestic master of the savannah – and makes a great gift for the man in your life.
You can surprise any man with a sweet tooth, too. A set of individual chocolates with superfoods is a dessert no one will say no to. Delight someone dear to you – and don't forget about yourself. Lovely Moments accessories will inspire creativity, even on gloomy winter evenings. A cosy throw blanket or a new makeup bag, a cat-themed notebook, a pencil case, or a set of bookmarks – choose what you like and treat yourself!

Oh, and speaking of your makeup bag. The Glam Team eries now has metallic liquid eyeshadows (can be used as eyeliner or highlighter), an eyebrow marker (hurray for a natural fill!), and a long-lasting foundation. We'll share some ideas for holiday makeup – just make sure you take a look at all the new products and pick out your favourite shades.
You have three weeks ahead of you to order gifts for anyone and everyone, including yourself. Happy shopping!
Download catalogue presentation >>
In the video presentation of catalogue 2/2021 business coach Natalia Mecheva told about all the new, interesting, and money-saving offers in the catalogue, plus gifts and promotions.
Learn about new gadgets for your home, and find out how to buy your favorite fragrances, care and decorative cosmetics bestsellers, wellness products, sporting goods, and pet products at the best prices.
Watch the video overview of catalogue 2/2021 and keep up with the most interesting new arrivals!