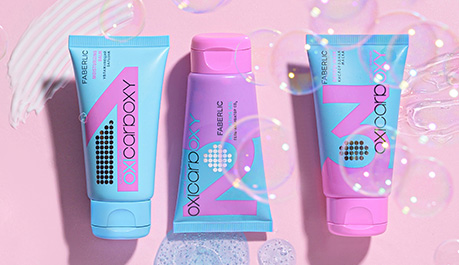 A beauty salon at home!
We are giving a Carboxytherapy set and an Oxygen mask (0294 и 0295) to everyone who registers with Faberlic from 1 to 21 February and makes a purchase in period №02/2021!
A Carboxytherapy set (includes a Moisturizing Balm and a CO2 Activating Gel) together with an Oxygen mask will provide an accumulative effect just like after visiting a beauty salon.
Use a Moisturizing Balm as a preparatory step. It softens the stratum corneum at skin's surface and removes dead skin cells.
The second step is applying a CO2 Activating Gel over a Moisturizing Balm. When these two components meet each other, carbon dioxide is generated. It saturates skin to intensify microcirculation.
The final step is an Oxygen Mask. It helps increase local microcirculation, softens and moisturizes skin, and saturates cells with oxygen.
You will notice results after the first application! Skin is 20% more moisturized and 15% more elastic.
To get the gift:
Register on faberlic.com from 1 to 21 February.
Place and pay for an order of 1499 rub.* or more (at catalogue prices) before 21 February.
From 22 February to 7 March get a Carboxytherapy set (0294) and an Oxygen mask (0295) with another order of 1000 rub. or more as a gift (for 1 rub).
Also: place your first order of 1000 rub. or more with Faberlic in the first 24 hours after you register and get another nice surprise - a set of home cosmetics products in mini versions: learn more!
It's an advantage to be a new customer at Faberlic! Learn how to purchase Faberlic best selling products at bargain prices: view the terms of the New Representative program >>
*Excluding auto-delivery and delivery fees.