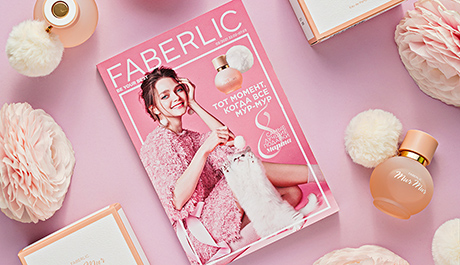 This PURRfect life brings many surprises! And so does the festive Faberlic catalogue. Browse, pick out some new products, and get in the spring mood.
Mur Mur is our new creamy-gourmet fragrance with notes of coconut. It's unbelievably tender, sweet, and adorable – and each bottle comes with an intoxicatingly fluffy accessory attached. Dedicated to cats everywhere! There's a scented page in the catalogue.
Looking for Women's Day gifts? Then graceful scarves, pashminas, and purses from our catalogue should be the focus of your attention. Complete it with jewellery sets in Faberlic-brand boxes! Or bet on the beauty of familiar things: give ceramic vases or lighted table mirror.

While we're talking about home comfort: the Faberlic Home series now has universal organizers for storing accessories, lingerie, textiles, and various little things. Some will help you put everything in its place, while others will help you keep track of paired items, and others still will help you keep your jewellery or cosmetics collection on display. Reach a new level of space organization. Warning: it's addictive!


And there's plenty to store. The Glam Team series now has classic Glam Liner pencils and Revolume mascara. Try these new products at 35% or even 55% off.

Summer is still far away, but the first bright new Faberlic products are already here. The Bioglow series includes a serum for radiance, even tone, and firm skin, and the Superfood collection includes vegan hair products. If shampoo, then yogurt, and if a mask, then pudding! You'll love the texture, fragrance, and effect. Handmade soap will add to your impressions of juicy summer colors – it's full of natural fruit oils and extracts.

We can't imagine spring without the traditional limited-edition basic care! Shower gels with floral scents and an updated set of hand creams in miniature format are just asking to be added to a gift. The prices won't make that a problem.


And, finally, the loudest premiere of the season is the Burmatikov clothing collection. Faberlic fashion director Andrey Burmatikov announced a new concept: rejecting 100% polyester for clothes that are in contact with the body. All clothing in the collection is made from natural fabrics: cotton and hi-tech viscose. Here you'll find denim, expressive decor, ultra-fashionable puff sleeves, and elegant fitted silhouettes. More models on our website!
Download catalogue presentation >>
In the video presentation of catalogue 3/2021 (22 February to 7 March), business trainer Evgenia Zhdanova spoke about the most interesting promotions and gifts, the assortment, and the new products in this catalogue.
The best offers, plus new skincare products, jewellery, stylish accessories, beauty gadgets, and interior solutions on offer in catalogue 3/2021.
Treat yourself to a wealth of holiday gifts and bargains!
Watch the video review of catalogue 3/2021 and hear about all our most interesting new arrivals!