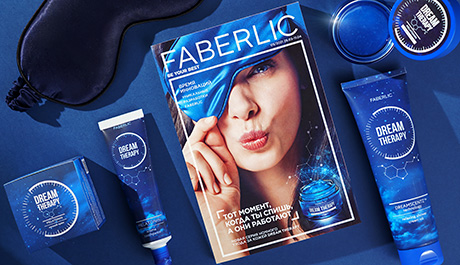 Innovation — for the spring beauty! In the new Faberlic catalogue, you will find the latest incarnation of fresh trends in skin care and fashionable clothes of exclusive design.

Dream Therapy is a series of complex care products with melatonin and a special aromatic composition. This is a cosmetics series that improves the quality of sleep, helps you to recover effectively! Encapsulated melatonin in skin products neutralizes free radicals and eliminates micro-damages. Try a Relaxing Shower Cream Oil and the Aroma Toothpaste!
Another beauty innovation: Dr.Core series. For the first time in Faberlic — cosmetics created on the principles of corneotherapy, the science of healthy skin. These products work on the stratum corneum, the topmost layer of skin, restoring it. The direct way to strengthen the body's natural barrier! Four product lines are planned within the series, and the first one, for oily and problem skin, is already in the catalogue.

Here are new products to help you take better care of yourself and are a joy to use: face masks with unusual textures for express care. Refreshing Face mask with Vitamin В3 activates rejuvenation at the cellular level. Regenerating Face Mask with an extract of centella asiatica has anti-aging properties. Softening Face Mask with Provitamin B5 restores and heals the skin. Masks do not need to be washed out. Each has a special texture and its own scent. Try them all, combine them all, to suit your daily needs.

What else will you need for the spring update? The full designer clothes collection from Burmatikov — exclusively on the Faberlic website! Several new fashion items can be found in the catalogue: these consist of knitwear and viscose with floral ornament, exquisite black lace and chambray - light dense cotton. The collection is not without something new for men. Calm shades, comfortable materials and classic lines will find a home in any wardrobe!

For mothers and daughters — a collection of clothing and accessories from the L.OVE series with the designer Lamb print! The same name cosmetics series with lanolin takes gentle care of your skin and hair, and comfortable leggings and sweatshirts in pastel shades will certainly provide you with the spring mood. To add a bit of spiritual and physical warmth choose our cotton socks, slippers and shopping bags, not to mention squishes and Lamb pillows.

Start the season with a lovely shopping experience!
Download the catalogue presentation >>
In the video presentation of catalogue 5/2021 (29 March – 11 April), our business coach Evgenia Zhdanova will talk about Faberlic's innovative cosmetic products, the numerous new care and decorative cosmetics, household goods and sports accessories!
Find out about the discounts available on out top women's and men's fragrances, perfumed body care products and health products.
Watch a video review of the most favourable offers, promotions and gifts from the catalogue 5/2021, get acquainted with new products and learn more about Faberlic products!