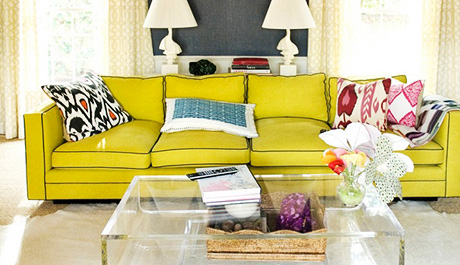 Cozy atmosphere is the spirit of a home: how do your family members feel, do you often hear laughter, do you treat each other with all sorts of goodies that make your household warmer and more attractive?
The atmosphere in your homes is created not only by family relationships but with details too: most of them do not require to spend much, but the effect is visible. How to make your home cozier and increase the "degree of warmth" in it?
1. Buy new drapes
Replace dull drapery with new, bright and fresh curtains, and you will not just fight off autumn blues but create a unique atmosphere in the room. Bold shades of orange, yellow, tawny and sienna make the room feel warmer, while green and turquoise create an atmosphere of creativity and leisure.
2. Use embroidered textile
Hand-embroidered tablecloths, covers and cushions help recreate an atmosphere of a country house in a regular urban flat. If you decorate rattan furniture with embroidered textile and add soft lights, your home will look more welcoming.
3. Vintage furniture
An inherited dresser that survived multiple change of owners, moving and attacks of little thugs, is perfect to create a homely home. It's worth spending money and time to restore it: contrasted with regular furniture, it will add individual style to your interior.
4. Individually designed sofa
A regular sofa purchased at a clearance price can become a dominating accent in your new friendly interior design. Just make a new trendy-coloured cover or use a fancy blanket combined with bright cushions.
5. Thorough cleaning
Get rid of all unnecessary items and unwelcome tiny things, as well as of foreign smells – you are the one in charge for the microclimate of your home, not any accidental circumstances. To make your home smell clean and fresh take a habit to use delicate and non-aggressive, safe and efficient cosmetics for home.
6. Indoor plants
They should grow not only on window sills but in all visible places. Select those that are not afraid of half-shades and draughts and create a tiny greenhouse in a cozy corner of your flat.
7. Bright doormat
The entrance is a perfect place to let your guests understand – they are welcome at the territory of comfort, beauty and joy. The range of bright doormats is impressive, you just need to chose the one for you.
8. Special corner
Make a place of extra comfort in your flat – for heart-to-heart talks, leisure and dolce far niente. Use drapes, cushions, clambering plants, your favourite photographs and pictures.
9. Dishes as an element of décor
Drying dishes and cutlery can also add coziness to your kitchen! Especially sparkling, perfectly matching each other and kitchen furniture.
10. Diffusing fragrance
If works even when you are not at home. Refined bottle with rattan sticks emits a delicate smell – soft floral and fruity notes will become an essential attribute or a cozy home.