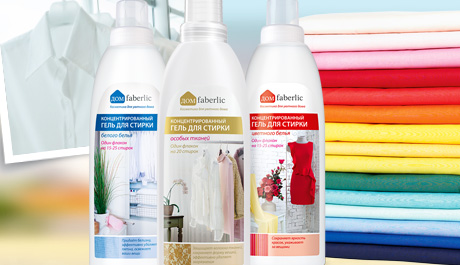 Question: What is better for washing children clothes – gel or powder? What is the conceptual difference between them?
Experts answer: Speaking about children clothes, it is important not only to make them clean but to disinfect them as well, so better wash them at the temperature 60°C minimum, using stain removing bleach – its components have additional antibacterial effect. For the same reason, similar recommendations go for any bed sheets and towels, both terrycloth and kitchen, robes, cotton underwear and pajamas.
Various heavy impurities are common for children clothes, so better use powders, as their efficiency is a bit higher than that of liquid detergents, used in the same conditions. It has to do with their formulas and effect that originally target hard and diverse impurities and can be used at a wide temperature range, from 30 to 90°C.
Liquid washing products are recommended for low temperatures (preferably 30-40°C) and for more delicate, thin and exigent fabrics that have no hard, crusted impurities, are not soiled by wear and require special treatment.
Liquid gels are much better for refreshing everyday clothes – dresses, blouses and shirts, skirts, trousers, clothes with prints and appliqués, sweaters, hosiery, lace lingerie. And of course, liquid gels are recommended for such items as down jackets, jump suits and jackets made of innovative proofed fabric, breathing fabric, microfiber, fleece, sports clothes and special fabric, such as velvet, silk, batiste, cashmere, wool, jersey, polyester.
Clothes that are usually soiled heavier – jeans, men's shirts and trousers, vests and t-shirts, socks – are better washed with powders at the temperature of 40°C minimum. Add dry or liquid stain removers in case you want to boost efficiency of removing dried, hard or large stains.