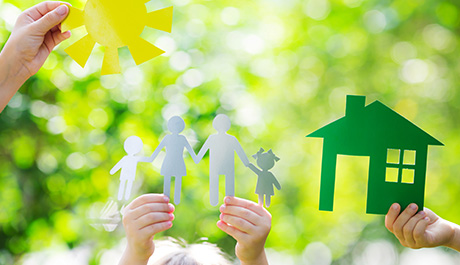 You can't build better "green" tomorrow just in a flat or house. But everyone's input is valuable when we talk about the global eco safety!
It's in our hands to make out home safer and our planet – more clean. Even more, those simple rules of an eco-friendly home will do good for all your family's health.
1. Opt out of all appliances that you don't need
Thus, you will cut not only energy consumption but intensity of electromagnetic fields as well. Try not to switch on several appliances at once and keep away from a working microwave oven, multi-cooker and even refrigerator. Some home appliances turn out to be unnecessary: such as toaster, sandwich maker and even coffee maker.
2. Change and clean filters in conditioners
Coarse filters can be washed and vacuum-cleaned, while secondary elements, so called fine filters, often need to be replaced. Change filers in conditioners to remove toxins and bacteria collected there. Some filters, for example, UV or catalytic filters, have unlimited period of use, while charcoal or zeolite ones work only from four months to five years!
3. Grow indoor plants
Even if you don't notice that the air becomes cleaner with a new fig plant, just know – the effect is there. Plants improve aqua-vapoury turnover and fight bacteria. Regular cranesbill disinfects and deodorizes water!
4. Use bio-degradable cosmetics for home
Residue of aggressive cleansing products stays on surfaces, even more – drained, such products eventually get into nearest waters. While biodegradable products decompose into water, carbon dioxide and mineral salts, without negative effect to environment. Besides, modern safe household products are completely washable and doesn't stick to dishes and working surfaces.
5. Recycle household waste
Your bin is not a place for used batteries, bulbs, accumulators, electronic devices, aerosol sprays, lighters, water filters. Even empty makeup bottles can be recycled. It is proved with a special sign (triangle made from arrows).
6. Collect organic waste
For cities that means food residue, peeling waste, egg shells. Owners of country houses have long learned to use organic waste for making fertilizers, while townspeople, who possess no knowledge in agriculture, should at least sort such waste. Packed in a separate biodegradable bag, it will be factory-sorted and recycled instantly or (if no recycling available) at least will be disposed faster in natural conditions.
7. Use eco-friendly products for air purification
You can and must fight mould at home. Don't let it grow not only in your bathroom, but on carpets, walls, window frames. Mould can start allergic response and cause chest infections in your family members. Use a safe cleansing spray for rooms, such as the Sengara Spray with Monarda Oil.