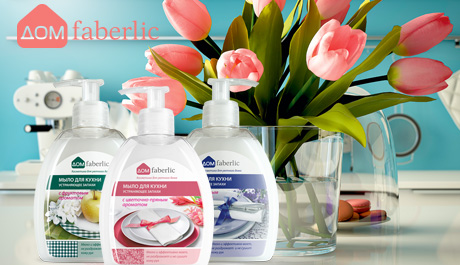 Sometimes guests are already at the door while you are a bit confused: your perfect scenario is broken with a little trouble, like a stain on your new dress.
What should we do, is a party ruined? No way! "Smart" cleansers by Faberlic erase your problem in an instance!





1. Stain on a dress
Spilled wine, coffee or sauce on your dress? Use Stain Removing Wipes – they remove any dirt even if you can't wash your clothes with a laundry detergent.
2. Unpleasant odour in the kitchen
At the end of a day spent on cooking your dream dinner, you are dissatisfied only with the kitchen smells? Just purify the air with the Sengara spray, and wash dishes, chopping boards and tableware with a special kitchen soap.
3. Old stain on a tablecloth
Just took a special tablecloth from the closet and found an old stain on it? Don't waste your time looking for another – any traces of good time can be removed with the all-purpose Stain Removing Pencil.
4. Traces on windows
Guests are coming soon, and you notice traces of snow and rain on your windows? Handle them with the Window and Mirror Cleanser!
5. Dirty shoes
Your guests are stuck – the weather outside is horrible, and they can't get to you without spilling some dirt on their shoes. Wet Wipes for leather return original freshness and shine to any shoes and boots!