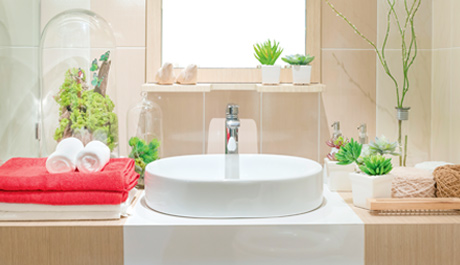 The range of the currently available home detergent is huge. Each small corner of your house can get a tailored solution to tackle the tasks established for it.
The days when common soap and laundry detergent were used in the kitchen, living room and bathroom have become a thing of the past. What are the advantages of special home cleaners and why do we like them?
No need to rub furniture with rough sponges
«Clean and Shiny» (11217)
Universal Cleaner delicately cleanses any washable surfaces. You don't even need to put on gloves when using it. The cleaner is appropriate for furniture, interior elements made of stone and plastic, glazed and delicate surfaces. Put aside the traditional abrasive brushes with this no-rinse solution that delivers natural shine without streaks!
Remove stains and tough kitchen grease easily
«Expert Cleaning Universal Cleaner» (11218)
has been developed for effective removal of grease and dirt from most washable kitchen surfaces. The cleaner is economical in terms of consumption. In addition to that, it boasts low foam formation (making it easy to rinse it off) and does not leave any streaks even on glossy surfaces: tabletops, fridges, ceramic tiles or glass. Expert Cleaning solution can be also used for natural surfaces, such as cork, wood, and stone. No more dirt and streaks – only a subtle citrus scent!
Next cleanups will be easier
Each cleaning session should as much as possible delay the time when it is needed again! Cleaning the bathroom is labor-intensive and takes a lot of time, because it implies continuous protection against lime scale and bacteria. Are you tired of cleaning the tiles, mixers and shower cabin again and again? Use the bath cleaner
(11220)
formulated with a powerful bio-degradable acid that fights tough stains, disinfects the surface and prevents further scaling! To clean up the bedroom, work room or nursery, opt for
«Clean and Shiny Concentrated Universal Cleaner» (11217)
– that works as an antistatic and prevents dust deposition.
The bathroom mirror won't get misty
In case bathroom is the most popular place in your house, you probably spend a lot of time cleaning the glass surfaces every day. Use the window cleaner with an anti-mist effect
(11048)
to prevent glass and mirrors (including shower cabins) from getting steamy, effectively clean and polish them, and protect against lime scale. The same effect would be just right for a car and kitchen, as well as for windows traditionally washed in spring!
Reliable protection against bacteria and viruses
Use the universal antibacterial cleaner (11136) вfor bathroom, kitchen, pet places and shoes. This formula is absolutely safe for any type of materials. It is tough on microbes, viruses or fungus, and can be used for disinfection of air conditioning systems. In addition to that, it makes no harm to humans or animals, and helps to prevent fungus diseases on houseplants!