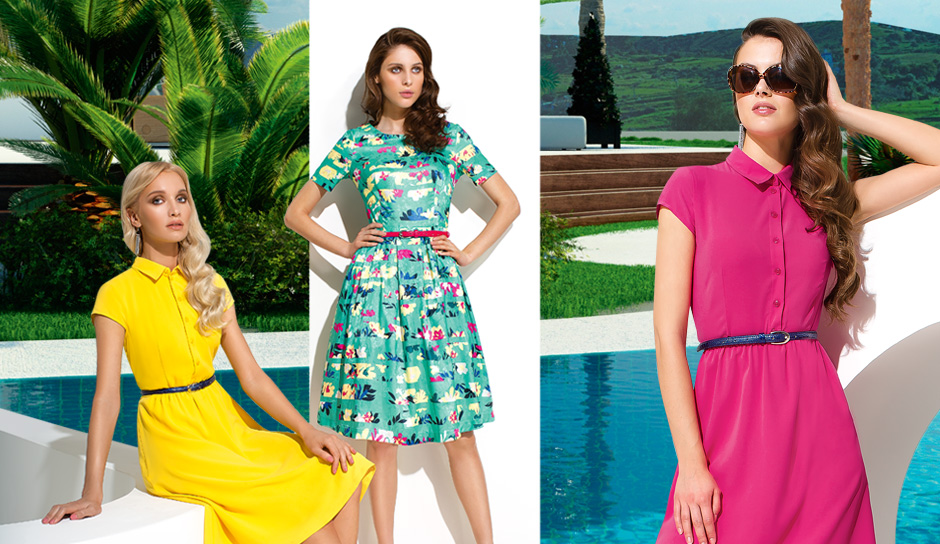 Fashion changes, but the style is eternal. Andrey Burmatikov, the Fashion Director of Faberlic, knows how to create a unique dress that will stay on trend for several seasons in a row, and how to blend the classic silhouette and ultramodern print pattern to grant customers with a freedom of choice at the most affordable prices.
To learn more about style secrets and the latest global fashion trends, read our interview.
Faberlic.com: Andrey, what was the source of inspiration for this creative and spring-fresh womenswear collection?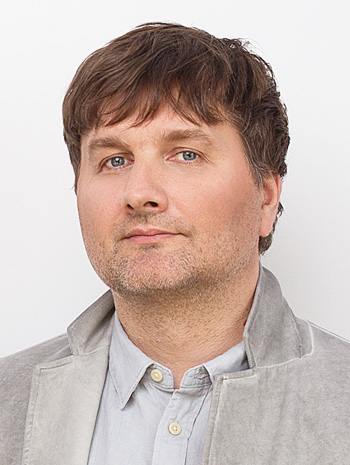 Andrey Burmatikov: First of all, we proceeded from the key trends of the current season, because the underlying fast-fashion concept implies fast response to fashion news. Faberlic's catalogue increasingly looks like a "beauty store". When working on the new product lines, we take notice of the latest fashion trends and open an opportunity to our customers to enjoy only high-end products.
The second source of inspiration was the phenomenal, awesome success of the Christmas collection that was developed in a very short time. It took us just a month to finalize it, and we did not expect such a great excitement on the side of customers. It was selling at an unbelievable rate – one dress per second! That was an unprecedented event in our country, and it will leave its mark in history. I tell about it to my colleagues at conferences, and our success story is cited as an example in the professional society. We've done this, Fabelic has done this! But it is not the time to rest now, let's move further.
Faberlic.com: What is special about the new dresses, what makes them stand out against other brands?
Andrey Burmatikov: We've selected a new silhouette line. Instead of semi-fitted dresses that were of immediate interest in winter, we decided to offer a greater number of fitted waist garments to our customers, in order to highlight their femininity and elegance. The color range has become bright and fresh to match the new summer season.
Generally speaking, our dresses boast a delusive simplicity and laconism. But there is a colossal job behind each of them. Our designers managed to achieve the truly "architectural" solutions: the dresses fit well both the slim girls and women with elegant body curves. Take a look at the website and you will see that the plus size models look excellent! The flawless silhouette helps to hide body imperfections, if necessary. The exclusive print motifs are used to achieve the optical illusion effect. Bright colors, unusual patterns and the unique fabric production technologies make the new dresses a statement piece in the context of any wardrobe. And this beauty is offered to customers at the most reasonable prices. With our new collection, there is no more need to sacrifice your family budget and choose between the desired and the affordable!
Faberlic.com: Was it difficult to fit the new fashion line in a makeup brand?
Andrey Burmatikov: This task was not easy at all, but it was within the power of specialists who were involved in creation of the new collection. We've established Faberlic-based trend bureau that does a colossal job each season to analyze fashion trends from the whole world! We are searching for inspiration, but do not copy anyone – all of our clothing items are unique and represent the examples of Russian design.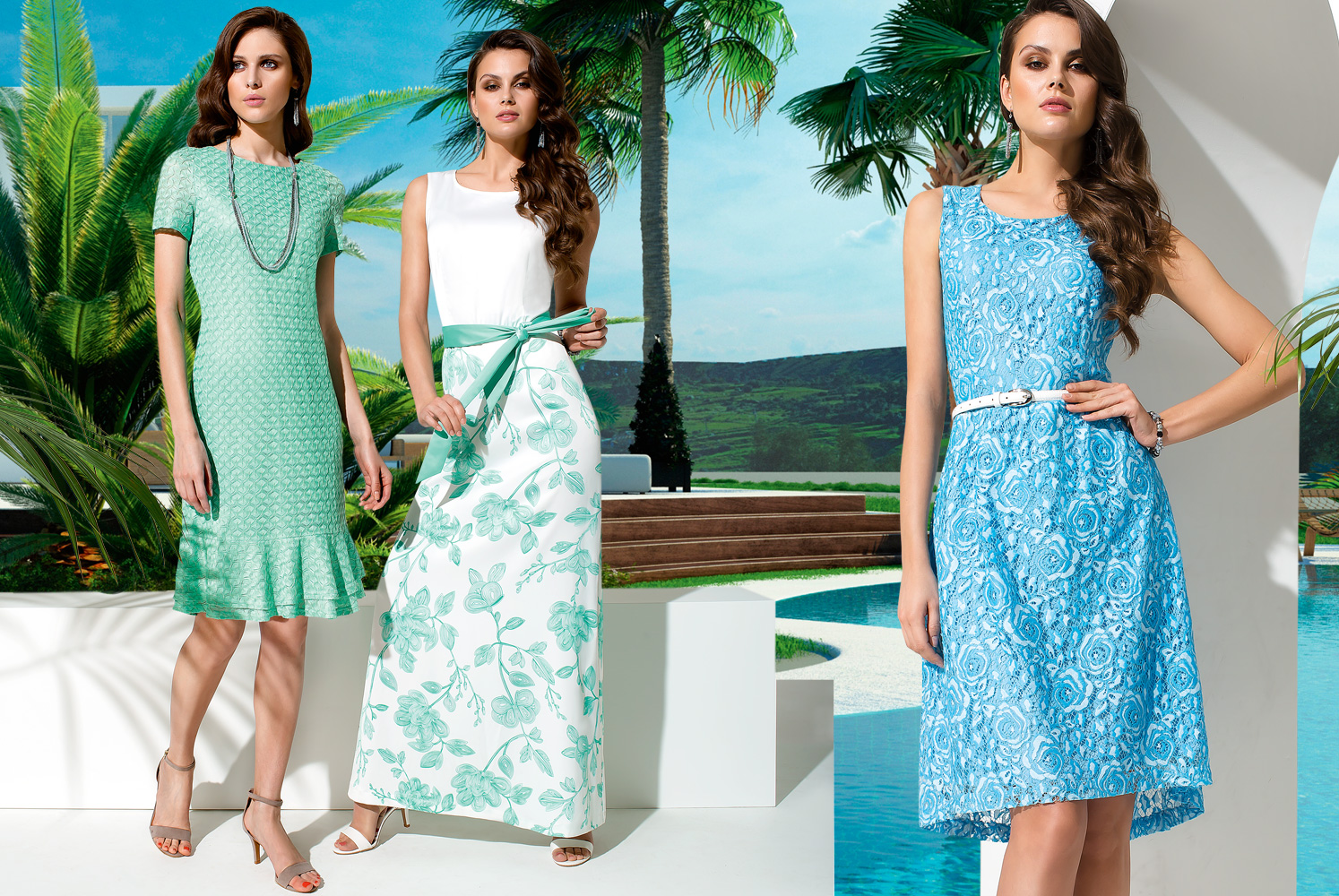 Faberlic.com: What trends run the show this day, and how were they translated in your womenswear collection?
Andrey Burmatikov: Lace will be one of the most noticeable favorites this season. In our catalogue, it is available in a gorgeous, multi-layered design. The cover page of catalogue № 6 displays a classic fitted dress with a new-look flared skirt crafted in the beautiful double-layered guipure – pink with coral lining (83381-83389).
In my mind, one of the top-selling garments this season will be the dress made of different-colored threads 83399-83407). It stands out with an ultrafashionable skirt. Being slightly longer at the back, the skirt makes the silhouette and movements extremely feminine. In addition to that, we've used one more trend here – big flower pattern. Complement your outfit with white accessories, and your look will radiate with purity, novelty and freshness. This fabric is produced under a very expensive technology that creates a 3-D textured effect.
Crochet jersey is one more technology that is currently of great interest. A fitted pencil dress of menthol color (83417-83425) is crafted from semi-transparent fabric with a small-sized ornamental pattern in the art-deco style that was typical for the 1920s and 1930s. The dress boasts a bit of golden lurex that adds an elegant shine without looking too bright.
The other new-look dress (dark blue – 83363-83371, menthol – 83354-83362) is a combination of three trends. First of all, it is the jacquard fabric – not a smooth surface, but a complicated, floral print motif. Secondly, the dress features the most topical pattern – flora + graphics. We use to call it floragraphics. This dress was initially designed in the dark blue color only, but it got a different menthol coloring by mistake. When we saw it, we were amazed at the beauty of the color range and realized that it would be the bestseller. This is the history of creation of a tender menthol dress with yellow and pink nuances. Speaking of the print motifs, many of them were designed by the famous Russian artist Dmitry Loginov.
Maxi length is one of the must-haves this summer. We offer three different city dresses (art. 83408-83416, 83372-83380, 83318-83326), that resemble a beach sarafan. Soft flowing fabric ensures maximum comfort on a hot summer day. The style of these dresses is universal: they look refined and glamorous both with ballet slippers and high-heel shoes.
Faberlic.com: What about the graphics theme? It has been on top of fashion for several seasons already. Do you think it will continue to the next year?
Andrey Burmatikov: This goes without any doubt. That's why we promote this trend to an absolute level, blend the graphical chevron lines and trendy flora, follow the universal laconic shape and add the feminine swing neckline 83327-83335). Such a dress may be daring or elegant at the same time. Complement it with the light plaited sandals to create an elegant look. If matched with the bright shoes and big accessories, it is sure to reiterate the tropical trend that will be of special interest this summer due to the Olympics in Brazil. All of us are in anticipation of this hot event. The air is filled with the scent of spices and juicy fruits, making designers give preference to the bright azalea, lily and orchid flowers.
Bright and shiny colors will be the fashion this spring and summer. They are particularly topical now due to the nostalgia for the 1980s and disco style. For those who want to be in the center of attention both in the office and the city, we have designed a limited series of heritage dresses with a button placket, collar and flared skirt (83426-83434, 83336-83344, 83435-83443).
They are available in the fantastic summer shades: electrical yellow, intense purple, luminescent magenta and, of course, bright blue cobalt. The catalogue cannot display an exceptional color potential of the fabric – in reality, the color vibrates and nearly takes your breath away! At that, the dresses are very laconic, hard-wearing and crush-resistant. When in motion, they create elegant waves to elevate your everyday business look to the new heights and make you stand out of the city crowd.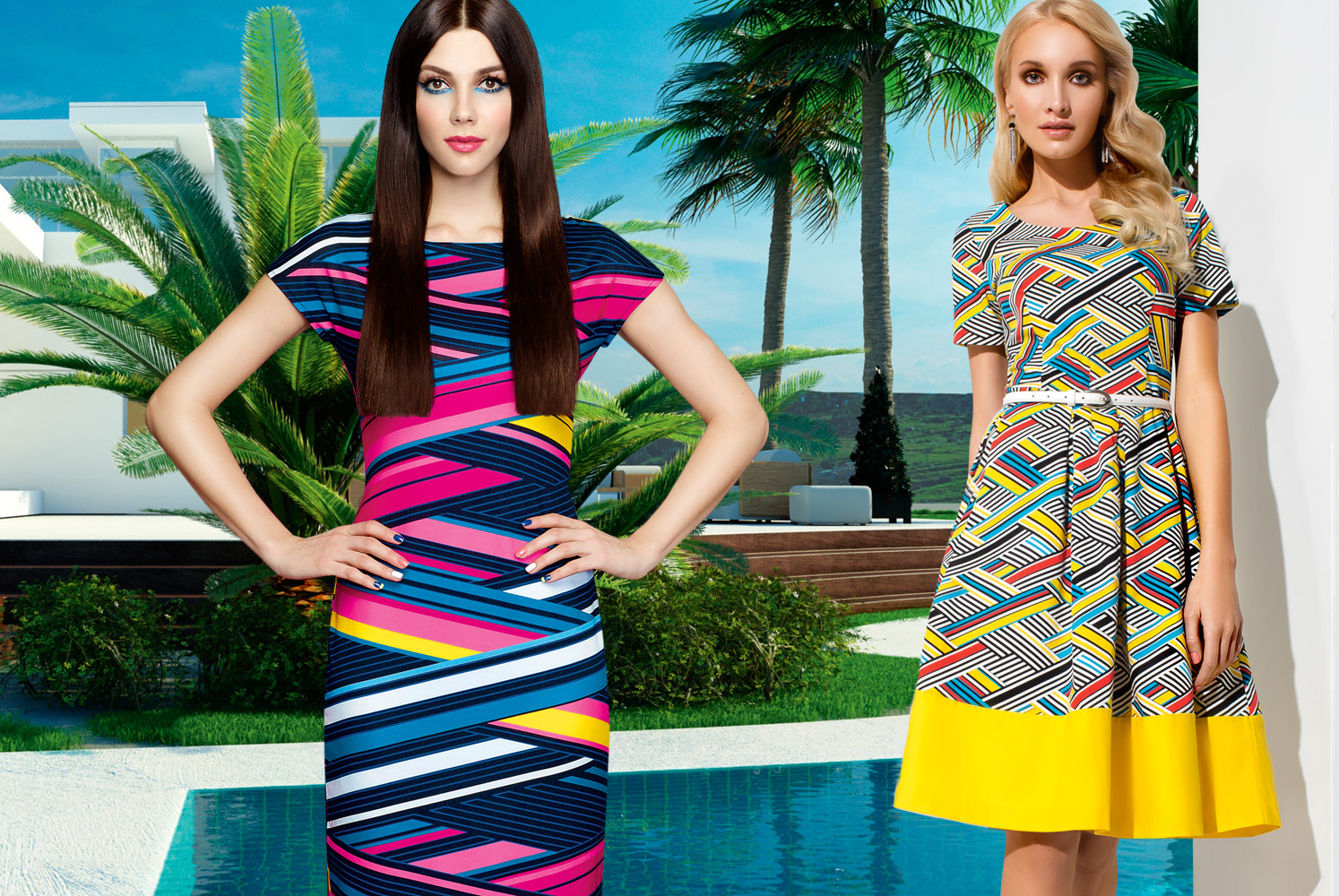 Faberlic.com: If a girl is planning to go on a date or party in the evening, is it possible to create the appropriate look that would match the occasion?
Andrey Burmatikov: Of course, these are exactly the clothes that can easily transform from casual to evening outfits. To achieve that, simply take off an office jacket, put on the bright high-heel sandals, add some brightness and a touch of glitter to your makeup, take a small handbag or clutch, and complete your look with big jewelry accessories. Bright colors and exclusive print motifs of our dresses are open to any metamorphoses ranging from business to evening and even beach style.
Faberlic.com: Can you guess which dress will be the most popular among our girls?
Andrey Burmatikov: I think that the long tiered dress in guipure (83372-83380) will be the bestseller. Being an experimental and the most expensive item of the collection, it will be available in a limited quantity. This dress boasts the perfect design, flawless fit and an incredibly soft lace detailing that follows two trends at a time – guipure and wide horizontal stripes.
In addition to that, our customers will surely like the bright and practical city dress. Simple in terms of silhouette, it is decorated with a daring macrogeometry motif that looks fabulously both on young girls and elder women (арт. 83300-83308).
Its multicolored print pattern enables combinations with almost every item of your wardrobe. This dress can be styled in a multitude of ways: complement it with a straw hat and big handbag for a beach walk; or wear it to the office with your favorite high-heel shoes, jacket or cardigan; or match it with a leather biker jacket and sneakers to create a cool-girl rockabilly look. The best partners of this dress are summer coats, bright shoes and accessories of the contrasting colors – white, black, pink or sunny yellow… This dress will stay topical for several seasons. For example, yellow and magenta are currently on trend, but tomorrow they might give place to blue and light pink. Multicolor secures your "fashion alibi" for several years ahead.

Faberlic.com: Many customers are skeptical about artificial materials, especially if they are intended for summer wear. What would you say to dispel the doubts?
Andrey Burmatikov: Times change, and the present-day synthetic materials are totally different from what we used to have in the past. We are now at the peak of technological development, and the artificial fabrics may possess the same qualities as natural, or even be better. Have you ever noticed that sport clothes that should meet stringent comfort requirements is always made from synthetic materials? The most important issue here is the quality of a particular fabric, the weave pattern. We choose water-absorbing fabrics of high quality that imitate the physical properties of human skin, and that is exactly the thing that makes them perfect for hot weather.
Moreover, the trendy silhouette, intense color and digital print, that are so much favored now, cannot always be achieved with pure cotton, while the elastane component prevents the garment from deformation and makes it look perfect on any figure, including intermediate sizes. Alongside this, we did not forget about the girls who cannot do without natural materials in summer: the new collection features both cotton and viscose. It is worth mentioning the graphical fitted-waist dress of the "princess-style" silhouette, with a wide yellow stripe and ultrafashionable color blocking pattern that has been on trend for several seasons already (арт. 83309-83317). It is a very expensive fabric that creates a perfectly rigid silhouette and always looks excellent.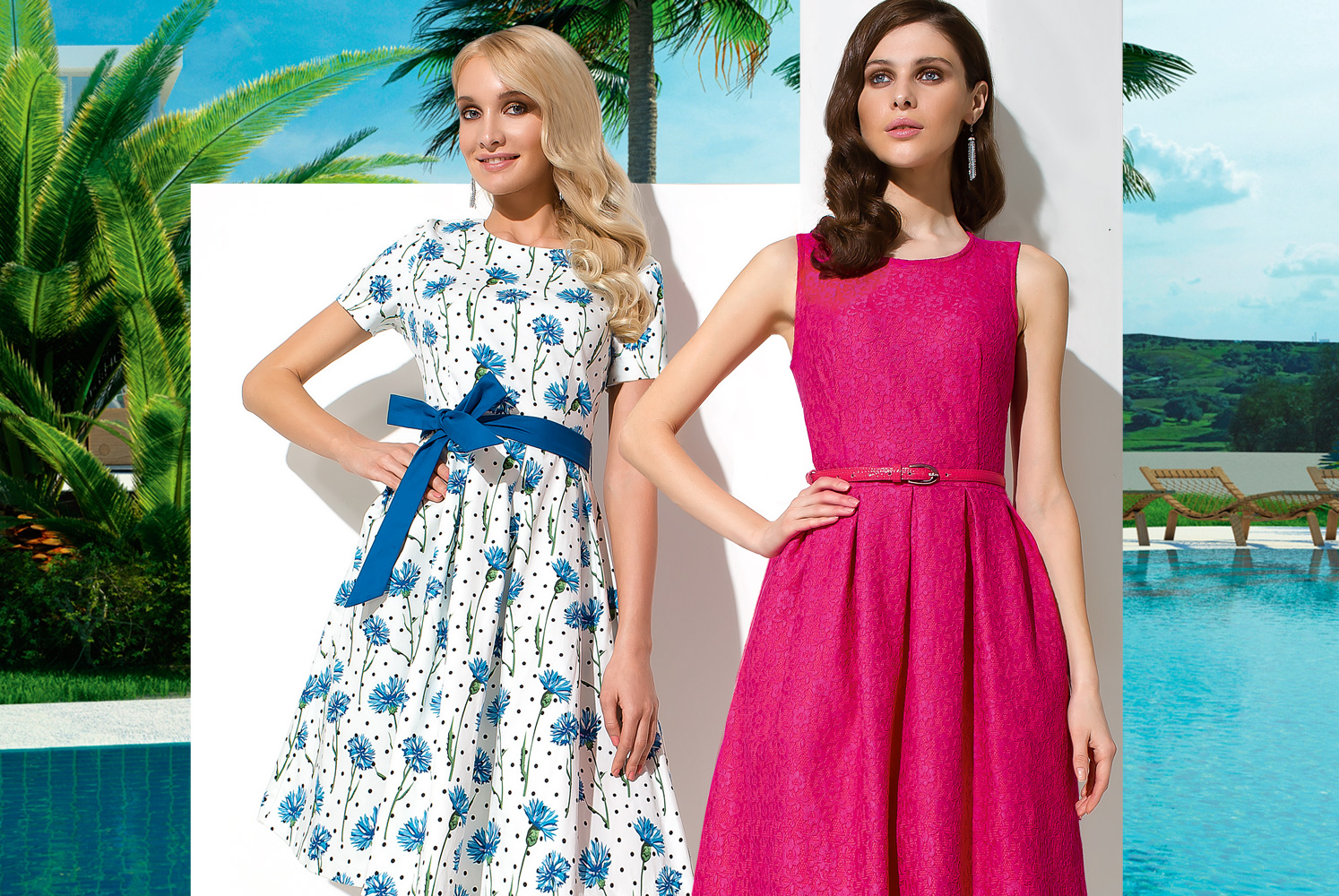 Faberlic.com: Do you have a favorite item in this collection?
Andrey Burmatikov: I would say that I feel special, even sentimental, about "a la Russe" dress (83390-83398). I was born in the country and spent a lot of time walking outside with my father. I remember the huge fields of wheat and rye, covered with the bright blue cornflowers – this is exactly the place that fills the heart with a feeling of freedom and uncontainable happiness… Our romantic, pristine white dress with a dainty polka dot pattern and bright cornflowers pays tribute to the magnificent Russian summer. To accentuate the waistline, we have complemented it with a cobalt-colored belt that can be tied in a bow. It is an absolutely faery and charming garment – it takes us back to our roots.
Faberlic.com: In winter you told about the peculiarities of color scheme used for dresses: the bright cold colors perfectly match any skin tone. Does the new collection follow this principle?
Andrey Burmatikov: Yes, it does. This principle is highly relevant now, because skin looks dull by the end of winter, and it is better not to go too far with nude colors (light pink, beige). By contrast to them, bright and intense shades are always appropriate. The color range of Faberlic's dresses is suitable both for blond and dark-haired women, light and brown skin tone, which is shown in our catalogue and the advertising video.
Faberlic.com: Could you please lift the veil of secrecy and tell us about Faberlic's fashion plans for the future?
Andrey Burmatikov: I cannot disclose all of our secrets, but we will surely promote the lace theme. It corresponds to our dream about the perfect femininity. Generally speaking, we are preparing a big surprise for you this autumn – a fabulous capsular collection created jointly with one of the most talented Russian designers. It will comprise blouses, tops, trousers, skirts… The new garments perfectly match each other, and may be used as the basis for a new, ultrafashionable wardrobe. It is impossible to picture the upcoming success now. It will be an unprecedented, phenomenal blast of aesthetics, beauty, femininity! Everyone who sees the drafts, goes into raptures and literally sign up for the waiting list. In addition to that, we are planning to arrange a colossal advertising campaign to guarantee the success!
Faberlic.com: We are looking forward to that! And the last thing: what is the key recommendations that you would give to your customers this summer?
Andrey Burmatikov: Don't hide your natural beauty. Faberlic has created the unique dresses that look perfectly on any women's figure and accentuate your best features. Don't forget about yourself, be brighter! Sometimes you need just a small detail, just one dress to transform your look and make it shine with sophistication and elegance. Get out of the habit of wearing bright clothes on special occasions only, and add a touch of color to your everyday routine. This sets the proper mood and ensures successful achievement of your targets. Style the unique ensembles, match the garments with colored shoes and accessories to create the best look for any situation. As for us, we'll use the best efforts to ensure that every girl, regardless of the body type and financial capacities, feels like a true star!
Interview: Anna Tsvetkova, Elena Tretyakova