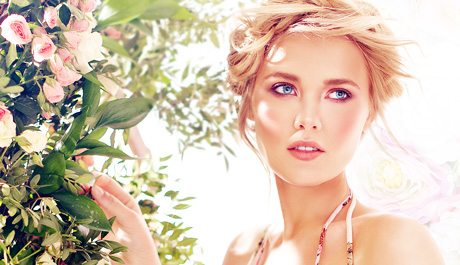 Every new spring makes our outfits airy and flowing, hairstyle – romantic, and the mood – carefree! This is the right time for a light makeup that looks flawless and natural.
The bare makeup look is always on trend, because it keeps you looking perfect in any situation. Think it is easy to put it on? Not at all! It takes a lot of efforts to create the radiant invisible veil, since the airiness effect is achieved only through proper combination of shades and textures.


1. Avoid any clearly defined lines
Eyeliner, liquid eye shadows and sharp eye pencils are no good for the natural makeup. One of its main rules is good blending and absence of hard edges. Use semi-transparent glosses and soft pencils instead.
2. Focus on skin
The main target of the natural makeup look is flawless complexion. Avoid using a lot of foundation Just add the lightest touch to specific areas – under the eyes and on nose wings, and don't forget about thorough blending to hide the borders. Light radiance would be appropriate on top of cheekbones and above the upper lip. Use the highlighter.
for that. Avoid shiny T-zone: it would be better to use matte foundation cream here.
3. Natural eye radiance
Pick natural eye colors – beige, light gold, pale brown. Brush the eye shadows into the crease and along the lower eyelashes instead of the eyeliner. Enhance lashes with a grey or brown lengthening mascara. Opt for length, not for volume. The eyebrow pencil is optional. If you decide to use it, make sure it stays within grey or brown color range.
4. Tender lips
The best solution for the bare-looking lips is a semi-transparent gloss of pink or peach color. Caramel, honey and beige tones may be also used. The glossy shine makes lips sensual, all the while keeping them look perfectly natural.
And don't forget about the foundation! Makeup Primer, foundation or at least your everyday moisturizer is guaranteed to provide skin with the main benefits of a natural makeup – softness and smoothness.