News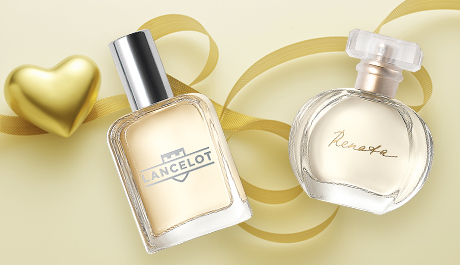 The world of fragrances is multi-faceted and diverse, and perfumery occupies a special place in the lives of elegant women and real men. Fragrances allow you to present yourself, and they become an expression of individuality and special feelings.
As we all know, there is no perfect perfume composition. Each fragrance fits a certain moment, a specific event, place, time, or mood.
Let your arsenal include lots of interesting options! Replenish your perfume collection, choose best-loved fragrances for yourself and for him, and try some new ones!
Thursday, 17 January 2019 15:00 /
Новости каталога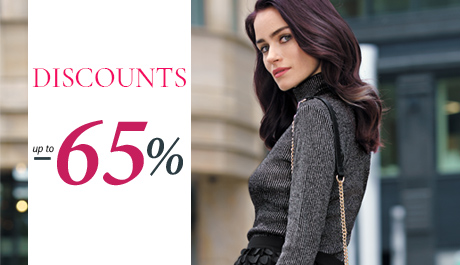 Let's head into the new year with new ideas, new plans, and new clothes, shoes, and accessories! Create your personal style so you can look great at work or out for a walk, at girls' night out or at the gym.
We are excited to announce that we are liquidating our 2017 collections. The sale will be on until 20 January. You can purchase the Autumn Tale, Street Couture, Nocturne, Faberlic by Alexandr Rogov collections, as well as activewear, at the best prices ever.
Don't miss your chance to grab some new pieces while your sizes are still in stock! Look for all products discounted up to -65% off at the second step of order placement or see them here >>
Wednesday, 02 January 2019 00:02 /
Новости каталога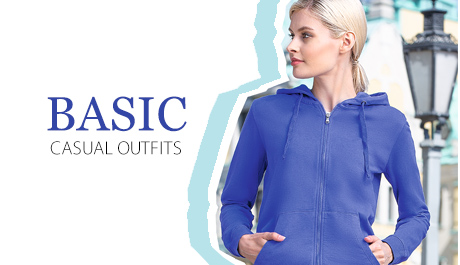 This winter, wear clothes that are anything but dull and boring. Choose bright everyday looks from the Basic collection to fill your life with colours! Soft, cozy knitwear will keep you warm in the cold weather and let you stay outside as long as you want.
Purchase clothes from the Basic collection before 20 January at up to 30% off. The more clothes you buy, the more you save!
Any 2 pieces – at 10% off;
any 3 pieces – at 20% off:
any 4 or more – at 30% off.
Wednesday, 02 January 2019 00:01 /
Новости каталога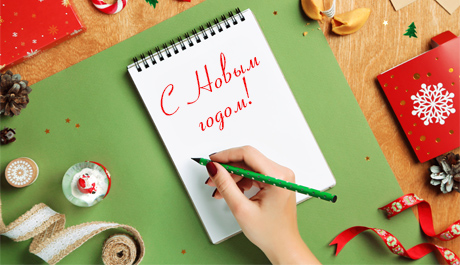 Dearest friends!
From the bottom of our hearts, we would like to wish you a happy 2019! Thank you for your commitment and desire to improve, for your love for those around you and for your business, and for your faith in yourself and in Faberlic! Let's step into the future together, supporting each other and lending a helping hand when it's needed.
We sincerely believe that the next 12 months will be happy and fruitful for you, that in these 52 weeks, all your plans and dreams will come to life and new, even more ambitious ones will be formed, and that for all 365 days, your eyes will sparkle joyfully, and you will be surrounded by your dearest friends.
Monday, 31 December 2018 10:00 /
Новости Faberlic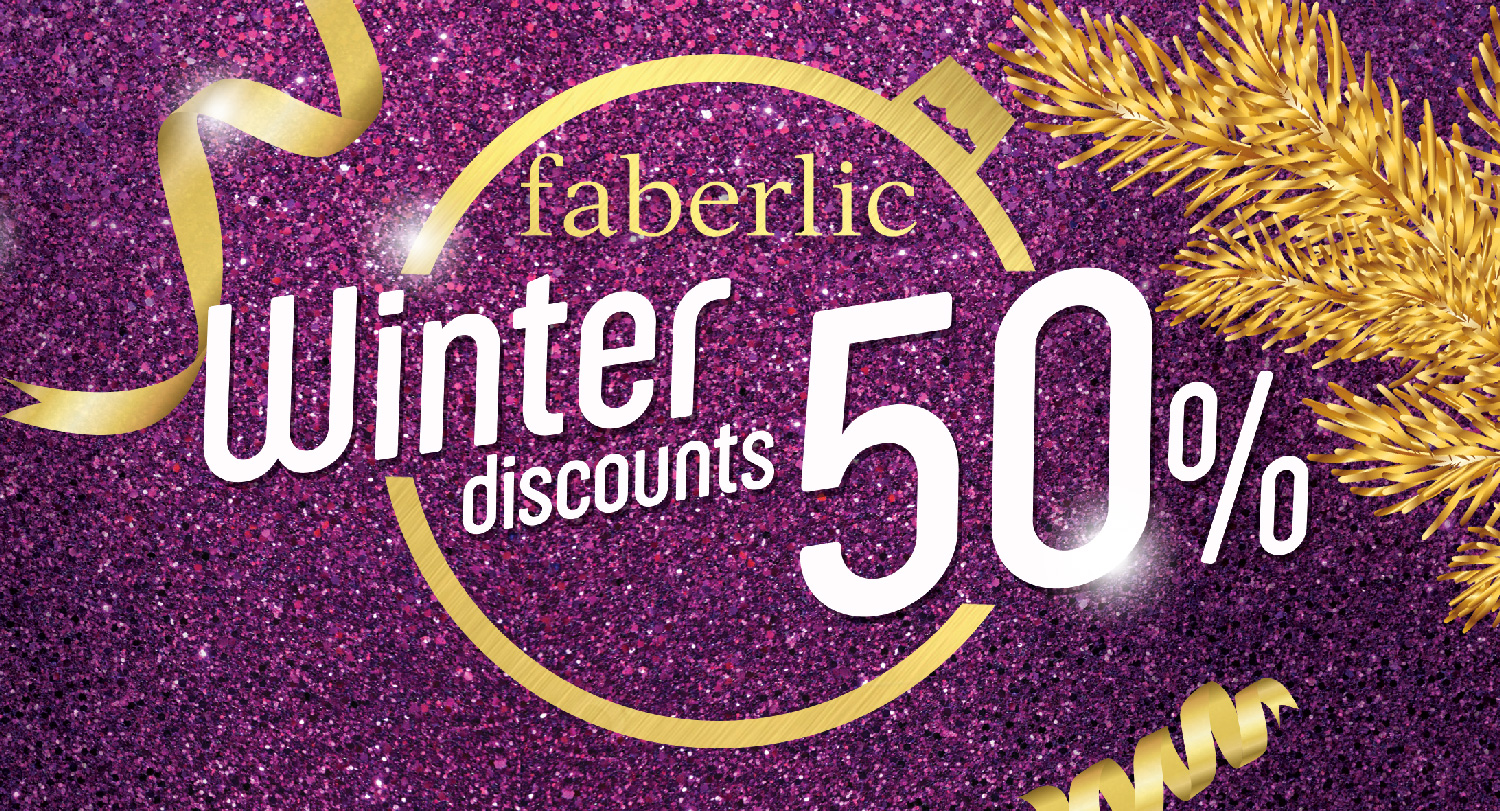 Smart shopping should involve getting great bargains and feeling good about it!
Spent 999 roubles or more on products from catalogues No. 17 and 18/2018? Then 50% discounts coupons* are waiting for you in catalogue No.1/2019.

From 30 December to 20 January use coupons to purchase perfumed and makeup cosmetics and household goods at wonderful prices. Gift yourself and your loved ones some festive cheer, and pleasantly surprise everyone this holiday season!
Friday, 28 December 2018 09:00 /
Новости каталога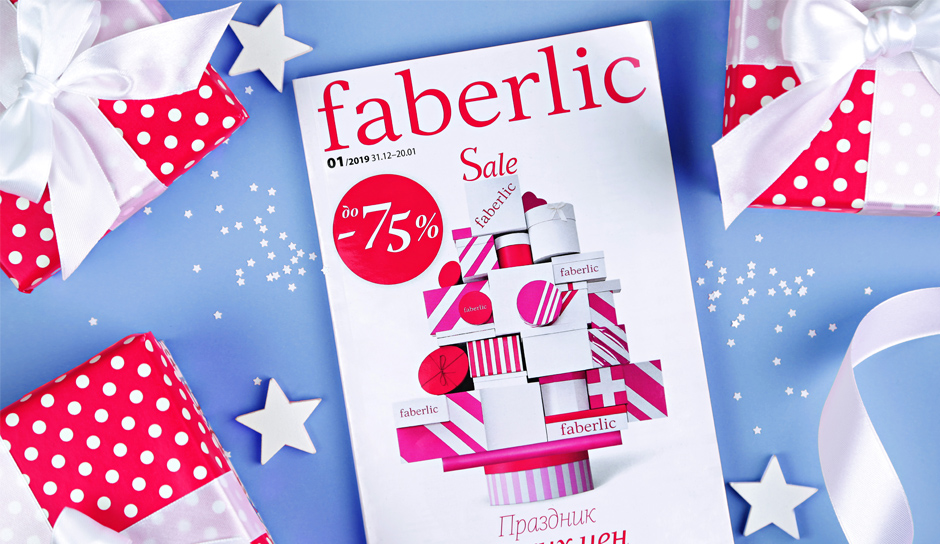 The first catalogue of the new year is full of discounts and special offers, as is tradition! Say hello to super prices on Faberlic hits: your favourite makeup and skincare products, clothing and household cosmetics, perfumery and accessories. Spend your holidays productively: place orders and get bargains!
Putting together a basic wardrobe? Choose comfortable and functional clothes from the Basic, Glam Sport and Basic plus collections. Cozy knitwear or bold animal print, feminine floral design or formal universal cuts? You'll find something to your taste among the models offered at up to 50% off! Clothing for the whole family is included in the promotion.
Thursday, 27 December 2018 15:00 /
Новости каталога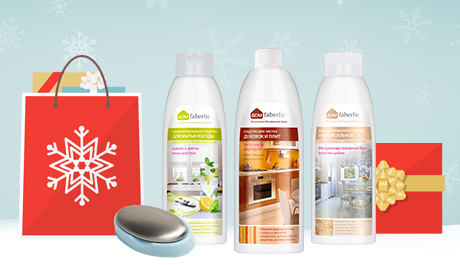 Make cleaning your house a joy, and know that Faberlic assistants will save you time and effort. Cleaning will be easy and pleasant, and everything around will shine. The effect will be immediately obvious!
We are giving a household cosmetics set to everyone who registers with Faberlic from 31 December to 20 January and makes a purchase in period No. 1/2019. All products have effective formulas, effectively remove burnt grease and limescale from surfaces, and are gentle on your hands.
Wednesday, 26 December 2018 14:00 /
Новости каталога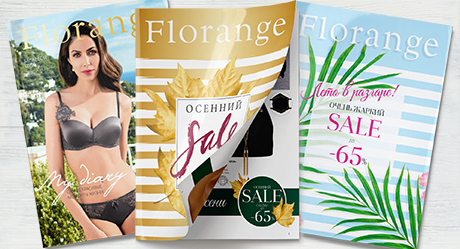 Elegant jewelry, exquisite lingerie, beautiful swimwear, handbags, scarves- they make us look perfect, and we can never have too many of them!

Fill up your wardrobe and get some gifts for your loved ones right now: from 13 November 2018 to 10 February 2019, there are additional discounts on Florange products from three catalogues:
Wednesday, 26 December 2018 12:30 /
Новости каталога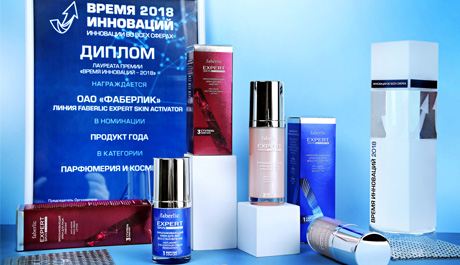 On 7 December in Krasnaya Polyana, the annual Time of Innovation awards were announced. In the Perfumery and Cosmetics category of the Product of the Year nomination, Faberlic's Expert Skin Aktivator, our latest development in anti-aging skincare, was recognised as the best.
The Time of Innovation award has been awarded in Russia since 2011 for the best projects and practices in the implementation, development, and expansion of innovations in various areas of business and production. The winners of these awards are the flagships of the Russian economy, for whom new advancements are the foundations of growth and development!
Monday, 17 December 2018 12:47 /
Новости Faberlic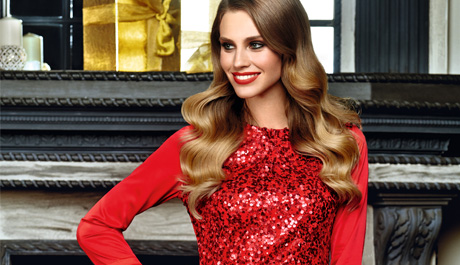 Luxurious and simple, romantic and feminine, practical and elegant! Do you know what are we talking about? Our holiday dress collection of course!
You still have enough time to find the right look for New Year's. Listen to your heart, keeping in mind your unique figure type and what kind of holiday you will have.
Thursday, 13 December 2018 16:42 /
Новости каталога